Snap Ships Headed to Tabletop!
GenCon 2021 saw the debut of an early version of Snap Ships Tactics, an innovative tabletop game system coming to Kickstarter next year. Over 35,000 gaming fans attended GenCon; in the open gaming hall we demoed a pre-alpha version of Snap Ships Tactics to flights of 16 players at a time (we had to expand our tables to accommodate demand). ~150 people played SST throughout the 4 days, and all slots on Friday and Saturday ran over capacity. We learned a lot and garnered some incredible feedback.
The Snap Ships Tactics system lets you build ships and battle them against one another. Cards – tied to the pieces in your custom build – determine how your ship plays and what it can do in battle. Currently, we have cards for Sabre, Scarab, Lance, Locust, Falx, and Wasp. At GenCon we let players battle in 1v1 games, 2v2, and even 3v3 on a massive 6 foot wide battlefield. The game is being developed by our design partner, Lynnvander Studios. In addition to being huge Snap Ships fans, they have designed some incredible sci-fi tactics games, including Star Trek: Alliance (WizKids) and the fan favorite X-wing campaign Heroes of the Aturi Cluster.
Snap Ships Tactics sports a number of cool innovations (check out that custom ruler!) and will work with your existing Snap Ships kits when it comes to Kickstarter next year.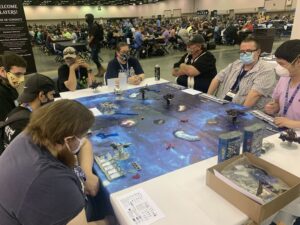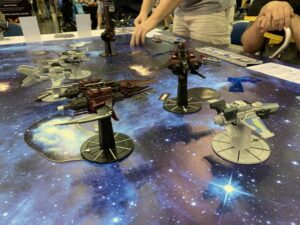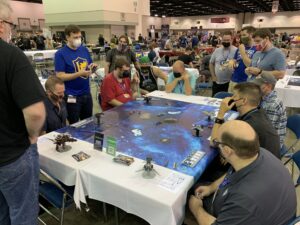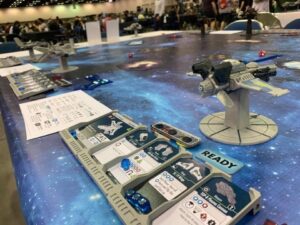 Wave 3 Arriving Now!
New ships and mech are inbound! The first two kits in Wave3 – Javelin and Tunnelweb – are available now from Amazon or direct from PlayMonster.com. We expect to see fan-favorite Maul (mechs!!!) and Spitter arriving next – you'll be the first to know when they do. Exclusive new pieces and new connection types (ball joints) make these kits essential for any Snap Ships fan!
Join our Discord to chat with the creators of Snap Ships and Snap Ships Tactics: